Increase Your Profit Series: Part 2 (Accurately Priced Menu)
07 Feb, 2014 | Tags: Bar Promotions, bar scheduling software, Employee Schedule, Employee schedule calendar, employee schedule template, Employee Scheduling, employee scheduling programs, job schedule, Online Scheduling Software, restaurant scheduling software, Scheduling staff members, Shift Scheduling, Staff Scheduling Software
In the conclusion of our 2 part series "Increase your Profits" we are going to review the pricing of your goods, aka your menu. In our last discussion we reviewed that your labor costs should not be more 18% – 24% of your sales. This will need to be monitored closely to ensure you are constantly within your target labor costs. Of course once your sales increase, you will have more customers and need to have a higher number of employees to serve those customers, while balancing this with your target labor cost. But how do you increase the profits on your menu item while maintaining your current level of customers? You can ensure that your menu items are accurately priced to give you the best possible profits.
There are many different theories on how to price menu items and traditionally you look at the food cost for each plate offered, multiple that by 3 and you have your menu price, but this is not the whole story. There are a number of questions you should ask yourself before an accurately priced menu can be truly effective for you.
Are you storing a large amount of capital in your freezer?

If a large amount of your money is sitting in your freezer waiting to be sold, your profits can be significantly affected

Are you offering too large of a selection on your menu causing you to have large inventory levels?

Evaluate the items on your menu to see what does and doesn't sell. By removing the low sellers you will not be stocking inventory on those items and regain some of your capital for use in other parts of your business.

Do you have a regular inventory audit procedure?

While we never want to think that our staff may be stealing, you need to maintain regular inventory checks to safeguard against theft.

Are you sure that your staff is following the strict recipes for your food and drinks? (Or do you even have strict recipes?)

If your bartenders are notorious for over pouring, or if you kitchen staff is increasing the portion size of your plated food, your accurately priced menu means nothing.
Once you have addressed these concerns, you are ready to look at your menu. You want to determine what the exact food cost is for each of your items and then figure out the plate cost. Once you have this information for each of your menu items, you are now able to accurately price these menu items. The plate cost of food should be no more than 29% -32% of your price. Beverage, however are a little different, some involve recipes of multiple items and have a more complex pricing strategy: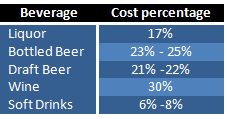 What Time Do I Work.com is a simple, easy to use, affordable staff scheduling software that is designed to help you save time and money managing your schedules, so you can focus on other aspects of your business (like an accurately priced menu.) Clients currently using the online scheduling software have found areas where they are overstaffed or scheduling a lot of overtime shifts and have significantly decreased their labor costs. Try it for yourself with our no obligation 30 day free trial!
---
Increase Your Profit Series: Part 1 (By Simply Managing your Labor Costs)
05 Feb, 2014 | Tags: Bar Promotions, bar scheduling software, conflict free schedules, Employee Schedule, Employee schedule calendar, employee schedule template, Employee Schedules, Employee Scheduling, employee scheduling programs, Employees Schedules, job schedule, Menu, Online Restaurant Scheduling Software, Profit, restaurant schedules, restaurant scheduling software, Schedules
We all know that sales equal profits, but we don't always think about how much profit we get from each sale. In the restaurant and bar industries there are 3 main costs that can have a significant impact on your profits. The most successful business operators are constantly checking their budget weekly to ensure that they are hitting their target costs to equal the highest amount of profits. These three main sections are food costs, beverage costs and labor costs.
Labor costs can be the trickiest piece of the puzzle to figure out, and unfortunately it usually works out to be about 60% of operations costs. You may think that a standard, repeating schedule each week can help you, but it can be one of the biggest mistakes. Yes, you can save time in creating and communicating your scheduling, but you could be faced with over- and under-staffing. Without adequate staff you are faced with the inability to provide consistent high level service to your customers and if you have too much staff working during a slower shift, you are losing a considerable amount of money. So how do you schedule the right number of staff for each shifts/days/weeks/months?
To accurately calculate the right number of staff on each shift is through reviewing past schedules against shift sales and then forecast your sales for the upcoming weeks/months. On average a good rule of thumb is that your labor cost should not be more than 18% – 24% of the expected sales. Accurate forecasting can take a while to master, but WhatTimeDoIWork.com offers the ability to help you.
WhatTimeDoIWork.com online employee scheduling software was developed by employee schedulers from the restaurant industry. The software saves and stores previous schedules for easy access when comparing to your sales reports and for creating upcoming schedules. A unique feature of WhatTimeDoIWork.com scheduling software is the ability to track and calculate labor costs as you create the schedule, telling you while you make the schedule what your labor costs will be. There are many other great features offered by WhatTimeDoIWork.com online scheduling software to help you save time and money. To learn more try our no obligation 30 free trial today!
---
How Do I get new customers into my Restaurant?
28 Nov, 2013 | Tags: Bar Promotions, Restaurant Promotions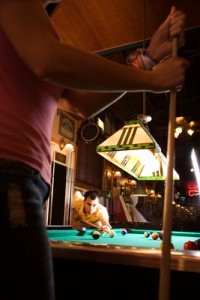 The Berkshire Mountainside Bar and Restaurant, a quaint family-owned establishment in the foothills of the Berkshire Mountains, is the only show in the sleepy Massachusetts town. With character to spare, the restaurant was built with lumber milled on site, and decorated with antiques and memorabilia gathered from throughout New England.
The Berkshire Mountainside has many local patrons. But for the business to thrive, the owner needed to attract new patrons from area towns who wanted to do more than just eat and run—but to eat, drink, and hang out for the evening. So The Berkshire Mountainside bought a pool table and a wide-screen TV, and turned the loft area above the bar into a game area. The owner placed ads in the local newspapers and online, and hung a funky sign in the doorway that proclaimed, "POOL HALL," with a hand pointing up the stairs. While the older crowd had little interest in pool, younger folks were delighted to spend their money on pool, cocktails and appetizers—and the owner was happy with his new patrons and profitable venture.
And then the owner had another idea—darts. He remembered that while in college, their on-site bar sponsored a weekly darts league; the place was mobbed every Thursday night with students and their friends, all vying for the top spot on the leader board. At The Berkshire Mountainside, the darts league proved to be a huge success—not only in terms of bringing in new clientele, but also in significantly boosting bar revenue—so the owner decided to take darts to the next level. He was going to sponsor a one-night-only tournament that was open to league players and anyone else who wanted to join in.
The owner waited until January to hold the event, knowing that patrons would be looking for something fun to do after the holiday rush was over. He ran more ads in newspapers, posted the event on his website and social media sites, and hung signs in strategic places in his bar and game room—prominently describing the dart competition and the trophies for the top three contestants, along with fifty-cent chicken wings, dollar drafts, and half-price appetizers for all participants.
At the end of the day, the owner benefited not only from excellent earnings, but also dozens of new and frequent patrons of The Berkshire Mountainside, looking for good food, good drinks, and a good time. By adding simple special events and featuring discounted drinks and food, not only did they get new patrons, but those patrons spend more time and money at The Berkshire Mountainside Bar and Restaurant.
So the moral of the story is, "Happy patrons having fun spend more time—and money—at your establishment."
---