Social Media Tips for Restaurants
24 Aug, 2016 | Tags: facebook, pinterest, restaurant best practices, Restaurant Promotions, restaurant staff scheduling, social media
Social Media Tips for Restaurants
The importance and power of social media has grown exponentially in the last decade, and its potential for making a business successful is a widely accepted fact. Restaurants are no exception. Traditional advertising certainly still has its place, and no amount of social media marketing will make up for poor food or service, but it is crucial for restaurants to use the influence of social media for their benefit; if they don't, their business may be left out in the cold.
The best place to start is to figure out where to focus your social media efforts based on which demographics frequent which platforms; this matters because of how many sites have gained momentum in the years since Facebook was the only game in town. Your target clientele can give you all the information you need.
For example, according to a 2012 survey by the Pew Research Center, urban residents between 18-29 most often use Twitter and Instagram while women under 50 can mostly be found on Pinterest and Facebook. Not surprisingly, since this survey was conducted, many more social media sites have popped up and become even more popular (i.e. Tumblr, Snapchat). Decide on a couple of sites that will work for your restaurant's particular clientele, and make yourself visible there with interesting content.
So what content is interesting anyway? There are few basics that you should definitely make a part of your social media protocol, and everything else should come from what makes your business unique. Here are some basic ideas for interesting content that will make social media work for you:
Menu – Don't limit your menu just to your website; providing it on social media sites will allow you to reach a far greater audience. Potential new customers want to have a basic idea of what kind of food is served, price points, variety, and signature dishes to try.
Mouth-watering food pics – Pictures featuring what your cuisine truly looks like when presented will give customers a more accurate idea of what their experience will be like and will entice them to give it a try. Combined with a fun hashtag, food pics are most effective and shareable on Instagram and Twitter.
Provide specials for followers – Starbucks has mastered this concept, mainly by offering time-sensitive deals, such as any size frappucino for $1 between noon and 4:00. Unless you are following them on social media, you're likely to miss out on such promotions. Offer these kinds of incentives frequently enough that people follow you AND share with friends to follow you as well.
Offer incentives to share – There are several different ways to get your customers to share content about your restaurant on social media, which translates into cheap or free advertising. Create a simple but effective hashtag for customers to use when sharing so you and others can easily find all relevant posts. Provide exclusive discounts or a small item for free for customers that share content using your hashtag and/or user name. Random giveaways are effective as well; use an online random winner generator like Sweepjudge or Rafflecopter to choose a winner.
Get the staff involved – People like to see what it's like "behind the scenes" of their favorite movies and television shows; restaurants are no different. Share photos of your staff before opening hours prepping fresh ingredients for the day ahead, send out a sneak preview directly from the head chef about a new dish happening soon, or simply take pictures with customers to share with their permission.
Aside from the quality and taste of food served at a restaurant, service is possibly just as important. Use social media to engage with your customers. Ask for feedback on a daily special, respond to individual comments on a Facebook thread, reply to tweets that mention your username or hashtag, and rectify customer complaints if necessary. Customers will know you care about them even after they walk out the door and will therefore be more likely to return and spread the word about your business.
Finally, don't underestimate the power of Facebook. Even if you have a niche type of clientele, your Facebook reach could help grow your business beyond what you thought was possible. A few basic tips for using Facebook to drive your sales as recommended by the National Restaurant Association are as follows:
Perfect your Facebook page – Your business page on Facebook should be just as effective as your website. Include an email tab, your full menu, hours, directions, and content posts.
Put your regular menu in a tab – This makes it easily accessible and visible.
Provide a Facebook offer for checking in – Encourage customers to check in to your location by offering exclusive deals. Facebook gives information about how to do this here.
Link to your mobile app – Make this link prominent in its display and be sure it is functioning properly. More people are likely to visit your page from a mobile device and would prefer to use an app or mobile site for quicker access.
Using social media to your advantage will help you reach a wider audience and learn about how to keep them satisfied, interested, and wanting more. Get creative, avoid the oversell, and don't be afraid to ask for feedback.
---
How Do I get new customers into my Restaurant?
28 Nov, 2013 | Tags: Bar Promotions, Restaurant Promotions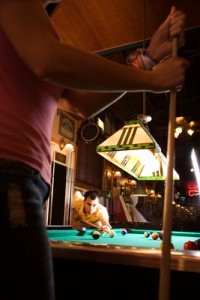 The Berkshire Mountainside Bar and Restaurant, a quaint family-owned establishment in the foothills of the Berkshire Mountains, is the only show in the sleepy Massachusetts town. With character to spare, the restaurant was built with lumber milled on site, and decorated with antiques and memorabilia gathered from throughout New England.
The Berkshire Mountainside has many local patrons. But for the business to thrive, the owner needed to attract new patrons from area towns who wanted to do more than just eat and run—but to eat, drink, and hang out for the evening. So The Berkshire Mountainside bought a pool table and a wide-screen TV, and turned the loft area above the bar into a game area. The owner placed ads in the local newspapers and online, and hung a funky sign in the doorway that proclaimed, "POOL HALL," with a hand pointing up the stairs. While the older crowd had little interest in pool, younger folks were delighted to spend their money on pool, cocktails and appetizers—and the owner was happy with his new patrons and profitable venture.
And then the owner had another idea—darts. He remembered that while in college, their on-site bar sponsored a weekly darts league; the place was mobbed every Thursday night with students and their friends, all vying for the top spot on the leader board. At The Berkshire Mountainside, the darts league proved to be a huge success—not only in terms of bringing in new clientele, but also in significantly boosting bar revenue—so the owner decided to take darts to the next level. He was going to sponsor a one-night-only tournament that was open to league players and anyone else who wanted to join in.
The owner waited until January to hold the event, knowing that patrons would be looking for something fun to do after the holiday rush was over. He ran more ads in newspapers, posted the event on his website and social media sites, and hung signs in strategic places in his bar and game room—prominently describing the dart competition and the trophies for the top three contestants, along with fifty-cent chicken wings, dollar drafts, and half-price appetizers for all participants.
At the end of the day, the owner benefited not only from excellent earnings, but also dozens of new and frequent patrons of The Berkshire Mountainside, looking for good food, good drinks, and a good time. By adding simple special events and featuring discounted drinks and food, not only did they get new patrons, but those patrons spend more time and money at The Berkshire Mountainside Bar and Restaurant.
So the moral of the story is, "Happy patrons having fun spend more time—and money—at your establishment."
---