How Do I get new customers into my Restaurant?
28 Nov, 2013 | Tags: Bar Promotions, Restaurant Promotions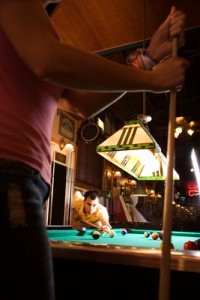 The Berkshire Mountainside Bar and Restaurant, a quaint family-owned establishment in the foothills of the Berkshire Mountains, is the only show in the sleepy Massachusetts town. With character to spare, the restaurant was built with lumber milled on site, and decorated with antiques and memorabilia gathered from throughout New England.
The Berkshire Mountainside has many local patrons. But for the business to thrive, the owner needed to attract new patrons from area towns who wanted to do more than just eat and run—but to eat, drink, and hang out for the evening. So The Berkshire Mountainside bought a pool table and a wide-screen TV, and turned the loft area above the bar into a game area. The owner placed ads in the local newspapers and online, and hung a funky sign in the doorway that proclaimed, "POOL HALL," with a hand pointing up the stairs. While the older crowd had little interest in pool, younger folks were delighted to spend their money on pool, cocktails and appetizers—and the owner was happy with his new patrons and profitable venture.
And then the owner had another idea—darts. He remembered that while in college, their on-site bar sponsored a weekly darts league; the place was mobbed every Thursday night with students and their friends, all vying for the top spot on the leader board. At The Berkshire Mountainside, the darts league proved to be a huge success—not only in terms of bringing in new clientele, but also in significantly boosting bar revenue—so the owner decided to take darts to the next level. He was going to sponsor a one-night-only tournament that was open to league players and anyone else who wanted to join in.
The owner waited until January to hold the event, knowing that patrons would be looking for something fun to do after the holiday rush was over. He ran more ads in newspapers, posted the event on his website and social media sites, and hung signs in strategic places in his bar and game room—prominently describing the dart competition and the trophies for the top three contestants, along with fifty-cent chicken wings, dollar drafts, and half-price appetizers for all participants.
At the end of the day, the owner benefited not only from excellent earnings, but also dozens of new and frequent patrons of The Berkshire Mountainside, looking for good food, good drinks, and a good time. By adding simple special events and featuring discounted drinks and food, not only did they get new patrons, but those patrons spend more time and money at The Berkshire Mountainside Bar and Restaurant.
So the moral of the story is, "Happy patrons having fun spend more time—and money—at your establishment."
---