SFW Halloween Costumes Straight From The Office
19 Oct, 2015 | Tags: fun, halloween, ideas, office costume, workplace
Spooking Your Company's Morale
It's that time of year again where you wish you would have done a better job preparing for the annual Halloween Office Party. Nothing like some SFW (suitable for work) office fun to change things up a bit for the sake of office morale.  For those of you who are on top of your game and bought your costume last month… or several months ago, go you! But if you're a little behind and still wondering about your costume, we've decided to go to the experts to help you find the best SFW (safe for work) costume ideas.
Obviously the best advice for SFW costumes would come from the office itself. Jim and Pam always have the best subtle, but cool looks. And if you're looking for something a little more on the creepy, but creative side, you've always got Dwight to look up to. Without further ado, here are the best SFW costumes directly from The Office!
He wrote book on his face. Get it?! Classic Jim.
The episode where Creed, Kevin, and Dwight all showed up as The Joker; still debating who wore it best…
Because family style costumes are always a hit at the office, and what's more SFW than Popeye and the gang? The answer: nothing.
Toby makes the best hobo. Just so you know, a hobo costume is always a great idea.
If you're creative, you can totally pull of Dr. Cinderella like Pam. Or you can try something different… like Nurse Rapunzel.
Halloween is the time to transform yourself into whatever you want for a day, so why not have a second head? I mean, Michael Scott did it.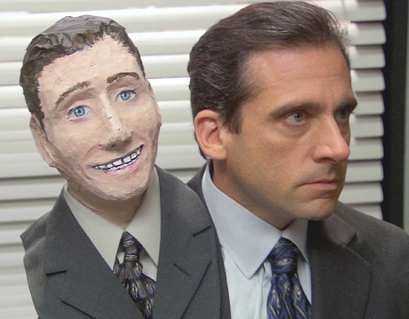 You may love Halloween, and you may love Cats, but you will never love either as much as Andy Bernard loves them.
What are you planning on wearing for Halloween? Hopefully, whatever you choose, it's as SFW as The Office employee's costumes!
And if you REALLY want to spook your employees out, tell them you are going be going back to a manual and analog employee scheduling system! Thankfully, the scare won't last long since you're more than likely using our digital shift management system "What Time Do I Work".
---