Retail Staff and Employee Scheduling
The more time a manager spends working on administrative duties like creating a work schedule, the less time they have to interact with customers and sell products.
Retail owners and managers are often faced with deciding how many employees to schedule at any given time, since foot traffic at retail stores can vary depending on the time of day, day of the week or time of year.
Implementing WhatTimeDoIWork.com online retail scheduling software will give owners and managers a new level of insight into their staffing needs and provide a higher level of customer service. It's easy to assign shifts effectively and track time-off requests, trainings, sick days and other employee information with WhatTimeDoIWork.com's retail scheduling software.
Send schedule communications to employees with one click.
Organize employee availabilities and shift preferences within the retail scheduling program.
Manage current employee contact information with employees updating their own info.
Allow your staff to view employee schedules at anytime from anywhere.
Assign breaks, duties and other tasks within shifts.
Easily assign shifts around time-off requests through the employee scheduler for increased employee morale and improved customer service.
Manage labor costs with wage calculations and automatic overtime alerts.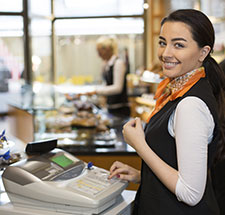 See how WhatTimeDoIWork.com retail scheduling software eliminates scheduling conflicts and reduces labor costs.
No service contracts or additional fees
Pay-as-you-go pricing
No downloads AND all updates are automatically included
Quick and easy upload feature for adding employee information
Free program wizard to get you started right away
Create the perfect conflict free retail schedule every time