Restaurant Employee Scheduling Software
As a restaurant owner and/or manager you have a lot on your plate—no pun intended. Every day you juggle several tasks at a time: greeting diners, monitoring inventory and managing staff, etc.
Restaurants are fast-paced demanding environments, so it's imperative that your establishment is at its best when the doors open. Boost employee morale and reduce staff turnover by keeping your employees scheduled for their preferred shifts with WhatTimeDoIWork.com online restaurant scheduling software.
For high-traffic days or peak hours, the restaurant scheduler reminds employees when they need to be at work to help avoid last-minute scrambles for coverage.
Restaurant scheduling from WhatTimeDoIWork.com will track employee requests, and help you schedule each shift based on the employee's skills.
Easily track labor expenses to eliminate excess labor costs with wage calculations and automatic overtime alerts.
Save past restaurant or café schedules to determine adequate scheduling needs for every shift.
Easily schedule work shifts around time-off requests with tracking features.
Maintain employee contact information for restaurant scheduling communications.
Added ability to track restaurant and café employee skill sets.
Automatic shift reminders for employees to eliminate no-shows.
Allow restaurant or café employees to view and swap shifts in the cloud from anywhere at any time.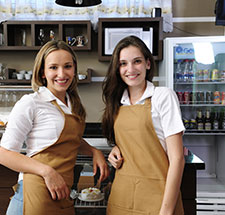 See how WhatTimeDoIWork.com café and restaurant scheduling software eliminates employee scheduling conflicts and reduces labor costs.
No service contracts or additional fees
Pay-as-you-go pricing
No downloads AND all updates are automatically included
Quick and easy upload feature for adding employee information
Free program wizard to get you started right away
Create the perfect conflict-free restaurant schedule every time