Hotel and Event Staff Scheduling Software
Hotels and Event Centers tend to be a revolving door of guests, and we mean that in the most literal sense. Employee schedules need to provide coverage for every aspect of the hotel so the property is completely staffed all day and night.
WhatTimeDoIWork.com hotel scheduling software allows managers to maintain employee information including availability, department and attendance. Creating a flexible employee schedule that is in tune with employees' preferred shifts will help boost overall morale and decrease the business' turnover rate.
Schedule by skill set to ensure all departments have adequate staffing levels based on current needs.
Organize hospitality employee availabilities and shift preferences within the employee scheduling program.
Our hotel scheduling software can be easily synchronized so all employee information is handled from one station.
Allow your hotel or event center staff to view employee schedules at anytime from anywhere.
Assign breaks, duties and other tasks within shifts.
Easily assign shifts around time-off requests through the hotel scheduling software for increased employee morale and improved customer service.
Monitor and control labor costs with automatic labor calculations and overtime alerts.
Communicate directly with hotel or event center staff about employee scheduling changes and other staffing issues.
Decrease hotel employee turnover with increased employee scheduling satisfaction.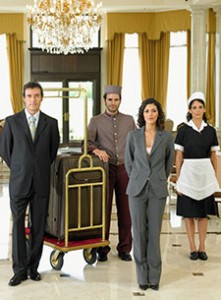 See how WhatTimeDoIWork.com hotel scheduling software eliminates employee scheduling conflicts and reduces labor costs.
No service contracts or additional fees
Pay-as-you-go pricing
No downloads AND all updates are automatically included
Quick and easy upload feature for adding hotel and event center employee information
Free program wizard to get you started right away
Create the perfect conflict free hotel employee schedule every time