Healthcare Employee Scheduling Software
Patient care is the first priority for hospitals, medical offices, long-term care facilities and walk-in clinics. WhatTimeDoIWork.com online medical scheduling software helps ensure that administrators have the right mix of doctors, nurses, support staff and other personnel available to address patients' needs.
Our hospital scheduling software also allows healthcare administrators to gain visibility into any department's schedule to ensure compliance with patient regulatory requirements. Our intuitive hospital scheduling capability gives administrators the ability to easily communicate with staff members to fill open shifts and ensure the right skill sets are on the right shifts.
Communicate posted healthcare employee schedules and open shifts with a click of the mouse.
Easily manage skill sets and schedule employees for the correct jobs.
Access hospital employee contact information easily through the program.
Past hospital schedules are logged in the system to aid in adequately staffing future shifts.
Manage a large medical staff with different availabilities with organized time-off requests.
Create on-call schedules with ease.
Allow employees to view employee schedules at any time and swap shifts within the program.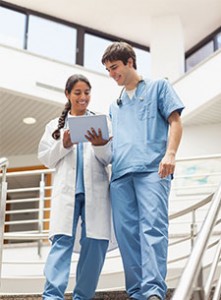 See how WhatTimeDoIWork.com hospital scheduling software eliminates employee scheduling conflicts and reduces labor costs.
No service contracts or additional fees
Pay-as-you-go pricing
No downloads AND all updates are automatically included
Quick and easy upload feature for adding healthcare employee information
Free program wizard to get you started right away
Create the perfect conflict free hospital schedule every time