Web Scheduling Software
31 Jul, 2017 |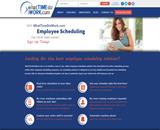 Every owner or manager of a business knows that the best way to maintain your success and growth is by continuously creating employee schedules that are followed. When employees don't show up for a shift because they are confused or forgot about a schedule change, this creates a tremendous amount of overtime and possibly short staffed shifts. In today's competitive consumer market, you can't afford to lose customers because they have to wait for assistance because of the lack of employees that are available. Many smart and savvy business owners are leaving this type of dilemma behind them, by choosing Web Scheduling Software that takes the guess work away from shift scheduling. At WhatTimeDoIWork.com, we have been successfully and proudly assisting companies with all of their scheduling needs.
WhatTimeDoIWork.com is known as the number one rated business that offers the the most original and state-of-the-art web scheduling software that can be found in today's market. This unique type of software helps to create, maintain and improve task management and job planning throughout a company. Thanks to modern technology, scheduling software is extremely affordable and can be tailored for use in almost any type of business. It can be installed and implemented without the need for training or classes, and can be accessed through any web browser, even on mobile phones and tablets.
Not only will this type of software reduce the workload for those doing the scheduling, it will also reduce stress, frustration, and loss of productivity caused by scheduling errors and uncertainties that employees can cause when they are not clear about their schedules. Because our product is available 24/7 to all of your employees, there is no reason for them to ever need to wonder when they are required to work. All staff members can also seek our their own replacements if they are unable to show up for a shift.
Basically, any kind of business that has employees and/or schedules appointments can benefit from our exclusive and user-friendly scheduling software. Whether you are a hospital staff scheduling manager, or perhaps you are smaller type of operation, this system will alleviate the stress, frustration and guess work that comes with having to manually and physically type or handwrite your employees' schedules. With our exciting features, such as being able to easily communicate changes to schedules automatically, you will have significantly more time to focus on the other aspects of managing your business.
If you would like some additional information regarding the benefits and advantages that come with using the most highly advanced web scheduling software, WhatTimeDoIWork.com would like to invite you to visit our web site at whattimedoiwork.com, and take a look at more of the exciting and remarkable features and services that our software will provide to your business. On our home page, you can schedule your risk free thirty day free trail that we are happy to offer you. You can also leave your contact information for a fast and friendly response back from us.
---