Web Based Scheduling Software
15 Jun, 2016 |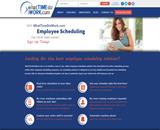 If you're searching for a Web Based Scheduling Software for your company, What Time Do I Work would like to invite you to discover what you've been missing, with a free 30 day trial of their software. There are no hidden fees, so you don't have to worry about a surprise bill on your credit card later, in fact, you don't even have to enter a credit card.
What Time Do I Work's web based scheduling software can make the scheduling process quick and easy. If you dread the painstaking process of gathering up your employees' scraps of paper with their time-off requests, vacation requests and other factors you have to work into the schedule, it's time to say goodbye forever to manual schedules.
What Time Do I Work knows you've spent too many of your own nights and weekends sitting in front of the employee schedule trying to work out the details of a conflict-free work week instead of being with your friends and family. If you weren't aware there were options,you're going to love what you read next:
What Time Do I Work can help you create conflict-free schedules week after week that eliminate the bulk of the work and headache involved and free you up to enjoy more leisure time.
Get ready to crumble up that paper schedule and embrace the future. Take a look at the incredible features What Time Do I Work offers:
– 'Phone call-free' communication with your entire staff through messages that you create and send one time to instantly communicate your messages. Whether you have 5 or 500 employees, you can easily communicate new schedules, changes to schedules and more. If the bulk of your communication is taking place through one phone call after another, you're going to appreciate the freedom of this feature.
– No-show elimination, through automatic reminders that let employees know their next shift is coming up. Are you the one who covers for the no-shows who forgot to come to work? This is going to change your world. Maybe you're the one who has to do all the last minute scrambling to try and find an employee to cover a shift. It's not going to happen with reminders.
– Web based scheduling software provides the potential for huge company savings, through creating conflict-free schedules that do not overstaff and alert you to overtime when another employee can cover a shift. Real-time labor calculations while creating the schedule will help you lower your labor costs.
– Paper and pen-free schedules that are accessible 24/7 by you and all employees. Throw out the notes; your employees can request time off, vacations and shift preferences right on the schedule.
Ready to get started on that free trial? Just visit whattimedoiwork.com and fill in some basic information. You can get started right away. It's absolutely free- honest! If you've never used a web based scheduling software program before, we know you're going to love your trial enough to not only sign up for service but tell all the managers you know about the best schedule software on the market: What Time Do I Work.
---