Staff Scheduling Software
15 Jun, 2016 |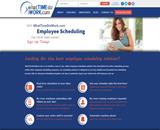 If you're considering Staff Scheduling Software, you're probably fed up with the countless hours you're currently putting into your company's schedules. What Time Do I Work knows the routine. Your schedule is taking over your weekends, your nights, your time off of work you're supposed to be enjoying with your friends and family.
Since WhatTimeDoIWork.com was founded in 2002, they've made it their mission to create a simple, flexible and realistic staff scheduling solution that evolves with market demands. They know your business is unique, so they've created the perfect staff scheduling software that is customizable to you.
Do you struggle to create the perfect conflict-free schedule week after week? Most managers do- that is, until they discover that What Time Do I Work can do all that for them. Their software will help you create conflict-free schedules every single time. Just post your schedule to the cloud for easy employee access. That's it!
This is more than just a staff scheduling software solution; it also opens a channel of communication with your entire workforce that your whole company can take advantage of, whether you have 5 people, or 50. Now you can send important scheduling messages to a single employee, or all of them at once. Your staff can also use the software to submit schedule-related inquiries. What Time Do I Work eliminates the old-fashioned time-wasting, resource-wasting methods and replaces them with streamlined processes that just work better.
Features include:
Creating, Changing and Posting Schedules:
No more calling your staff to inform them of employee schedule changes. What Time Do I Work automatically notifies each employee of the changes made to the schedule

No more manually typing or writing down each schedule. Now it's a simple point and click system.

Puts an end to your staff constantly calling in to ask about their schedule. Your schedule is available online 24/7. Eliminates calls asking: 'What time do I work?'
Contacting Employees & Finding Replacements:
Forget about calling down a phone list one number at a time. One click calls your entire staff in seconds!

Eliminates employees calling you for help to find a replacement when they can't work. Employees can find their own replacement with What Time Do I Work.
Employee Requests for Time Off:
You'll never have to deal with scribbled messages on pieces of paper or voice messages. All requests are submitted online and displayed on the schedule.

Stop dealing with unclear information on availability. It's all organized and simplified with access to all schedule requests at anytime.
Managers will appreciate automatically updating information with What Time Do I Work. Their exceptional staff scheduling software will help you better manage your staff, keep them in the loop and maintain the organization that your company thrives on.
It all starts with a free 30-day trial from What Time Do I Work. Simply go to whattimedoiwork.com and provide some basic contact information: name, email, company name username and password. That's it! There are no hidden fees, no hoops to jump through and nothing whatsoever to download. Just start enjoying the software that so many other business managers are already using. Get started today- it's free.
---