Staff Scheduling Program
31 Jul, 2017 |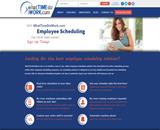 As all business owners and managers are aware of, having the proper amount of staff members available for every shift is of the utmost importance. To continually maintain the success and growth of your company, your clients need to feel that are valuable and meaningful to you. If they are not receiving the levels of customer service that they deserve, they will abandon you, and then tell anyone who is willing to listen, all about their bad experience. The most easy way that you can avoid this situation from ever happening to you is by implementing a well designed and affordable Staff Scheduling Program that meets your scheduling requirements. For over the last fifteen years WhatTimeDoIWork.com has been providing scheduling solutions for our valued and highly important clients.
One you choose to utilize the most technologically advanced and user friendly staff scheduling program that is available from WhatTimeDoIWork.com, you will immediately begin seeing the savings of valuable time and money. By leaving the guess work out of creating your staffs' work hours, you can avoid the costly necessity of having to schedule overtime hours because certain employees didn't show up for their shifts. With our state-of-the-art features, such as 24/7 online availability to all of your employees, they will never miss another scheduled shift.
Business owners want to ensure that there is enough labor scheduled to handle fluctuating business levels, but not too much so that the business is overspending for its labor, driving up costs and losing profits. Your valued employees are real people with actual demands, such as family obligations, social lives, health concerns and other issues that can influence when and where they want to work. This means that balancing the needs of the business against the desires of the workforce can be fulfilled much more simply by having the scheduling software that can do the job for you.
When individual managers create work schedules, they will often take in to consideration such aspects that include a little extra labor to make sure they aren't caught short in case of no-shows, shortages, or workers asking to go home early. But this is based entirely on theories and hunches. When you choose to take advantage of scheduling software tha can perform these tasks for you, there is never any second guessing or worrying regarding having the proper amount of employees available. This automated program will save you countless hours that come with scheduling and informing staff members of a schedule change.
If you feel that your business could greatly benefit from the advantages of implementing a staff scheduling program, we would like to invite you to visit our web site at whattimedoiwork.com, and learn more about the features and technology that our amazing software programs can provide to you. On our home page, you can leave your contact information along with any questions or comments that you may have. You can also easily schedule your no cost, risk free thirty day trial that we are happy to provide to you.
---