Restaurant Scheduling Software
15 Jun, 2016 |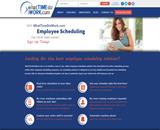 Looking for Restaurant Scheduling Software that will save you time and your company money? That's what it's all about! What Time Do I Work has created software that helps managers make the most out of their scheduling efforts. They help create conflict-free schedules that end the frustration that comes with spending countless hours sitting in front of the schedule. They know you have better things to do with your time.
As a restaurant owner or manager, you have a lot taking place at once. Every day, you're busy juggling several tasks at once: greeting diners, monitoring your inventory, managing your staff, etc. Restaurants are fast-paced, demanding environments, so it's essential that your establishment is at its best when the doors open.
What Time Do I Work can help you boost your employee morale and reduce your staff turnover by keeping your employees scheduled for their preferred shifts with restaurant scheduling software that works to everyone's advantage. Some of the benefits to using restaurant scheduling software include:
The restaurant scheduling software will remind employees when they need to be at work to avoid last-minute scrambles for coverage during high-traffic days or during peak hours.

Restaurant scheduling will make it effortless to track employee requests, so you can schedule based on each employee's preferred hours and days. It also helps to schedule based on employee skills.

Now you can easily track labor expenses to eliminate excess labor costs with wage calculations and automatic overtime alerts.

Saves past schedules to determine adequate scheduling needs for every shift

Makes it easy to schedule work shifts around time-off requests with tracking features

Helps you maintain flawless contact information for ease of restaurant scheduling communication

Automatic shift reminders for employees to ensure they make it in to work
Restaurant Scheduling Software from What Time Do I Work will help you:
Eliminate no-shows. With automatic reminders for employees about their upcoming work schedule

Put down the phone. Now you can easily communicate new employee schedules with automatic messages to your entire staff!

Increase company profits by reducing employee overtime, with automatic alerts and labor calculations that help lower your labor costa and potentially save you thousands of dollars annually.

Save time by organizing your employee schedule requests and availabilities with alerts to help you create conflict-free schedules

View schedules online from any computer or smartphone with internet access, 7 days a week, 24 hours a day.

Throw out the notes and let the restaurant scheduling software keep track of availability and time-off requests.
As a restaurant owner or manager, you know this is a game changer. What Time Do I Work is going to save you so much time, you'll wonder how you ever managed your schedules by hand. You can get started today, with a free 30-day free trial that offers complete access to What Time Do I Work's restaurant scheduling software, with no obligation, no downloads and no hidden fees. Just visit whattimedoiwork.com, sign up and start using the software. The only questions left to ask is: What are you going to do with all that extra time?
---