Restaurant Schedules
15 Jun, 2016 |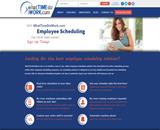 Are you searching for a web-based program to help you create Restaurant Schedules? You're going to love What Time Do I Work. Their software is able to help you create the conflict-free schedules your business relies on to keep your budget under control.
As a restaurant owner or manager, What Time Do I Work knows you have a lot out in front of you. That's why they created software exclusively for your industry, to save you valuable man hours and money. If you're currently struggling with old-fashioned paper schedules that are labor-intensive and tedious, you're going to appreciate what you read next:
What Time Do I Work can help you create the perfect conflict-free schedule week after week, reducing labor costs, streamlining communication between you and your entire staff and freeing up your valuable time to do something other than working on the schedule.
How is it possible? Take a closer look at what the software can do for your restaurant schedules:
– Do 'no-shows' disrupt the flow of your business day after day? If you're tired of having to cover a shift or scramble at the last minute to find someone who can fill in, What Time Do I Work's 'Reminders' will give a whole new meaning to peace of mind. Your employees will receive a reminder before their shift so they'll never be able to use the excuse that they forgot they were supposed to work. High-traffic days and peak hours are covered.
– Do your restaurant schedules have scraps of paper taped to them with employee requests? What Time Do I Work's software will automatically track your employees' time off and vacation requests, preferred shifts and more, to help you create your restaurant schedules based on their preferred shift and skills.
– You'll easily be able to track labor expenses to eliminate excess labor costs from overstaffing and unnecessary overtime, with automatic wage calculations and alerts. Your company will save money while you save time.
– Streamline communication between you and your staff with messages that go out to every employee, whether you have 5 or 500 staff members. Put down the phone and really start communicating with your employees.
– What Time Do I Work offers the added ability to track restaurant and cafe employee skill sets.
With What Time Do I Work, you and your employees will have full access to your restaurant schedules from anywhere at any time. The program and schedules are saved in the cloud so you can review and create new staff schedules on your own time.
If applicable, you can easily duplicate and evaluate past restaurant schedules to determine adequate staging requirements for busy and slow times.
Now you can take advantage of a full 30-day trial offer by What Time Do I Work. There are no service contracts or fees of any kind. If you decide you love it, you can continue using the software with pay-as-you-go pricing. There are no downloads and all updates are automatically included for your benefit.
Why not sign up now at whattimedoiwork.com? The free program wizard can get you set up and started right away. We think you'll love making restaurant schedules the smart way, and we're sure you'll never go back to paper schedules again.
---