Online Scheduling Software
15 Jun, 2016 |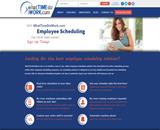 If you're still creating your employees' schedules with a pen and notebook, you may have started thinking about Online Scheduling Software; you may have even heard others talking about it. Scheduling software has helped countless managers get a handle on scheduling issues and saves a lot of time during the week.
Were you aware that online scheduling software can impact your company's bottom line? What Time Do I Work online scheduling software automatically calculates labor costs for your company while you create your schedule. Aside from saving you countless hours throughout your work week, it can automatically alert you to scheduling conflicts and overtime shifts that can end up costing your company more than necessary.
Online scheduling software from What Time Do I Work not only help you create conflict-free schedules, it also offers advanced features to automatically update your staff when a new schedule is posted. You can communicate open shifts or send custom messages to your entire shift with the click of a mouse!
If you dream of spending less time sitting in front of your company's schedule, the online scheduling software from What Time Do I Work offers countless benefits, so you can focus on your business and your customers. In fact, they are so confident you'll love their online scheduling software, they're offering a free 30 day trial, with access to the full software for 30 days, with no downloads to perform, no credit card to enter and no hidden costs or fees. What Time Do I Work simply wants you to see what you've been missing out on, and offer you the help you need to manage your schedules efficiently.
Take a look at some of the benefits you'll enjoy when using online scheduling software from What Time Do I Work:
The Old Way: Manually typing or writing down each shift

The New Way: Simple point and click
The Old Way: Calling staff to inform them of employee schedule changes

The New Way: Automatically notifies each employee of schedule changes
The Old Way: Employees constantly calling to ask about their schedule

The New Way: Available online 24/7, so no more calls asking: 'What Time Do I Work'?
The Old Way: Call down a phone list one by one

The New Way: One click call your entire staff in seconds
Employees calling you for help to find a replacement

The New Way: No more calls, since employees can find their own replacements
The Old Way: Employee requests scribbled on pieces of paper or left in voice messages

The New Way: Requests submitted online and displayed on the employee schedule
What Time Do I Work knows you have spent too many nights and weekends struggling to create conflict-free schedules instead of being with your family and friends. What Time Do I Work provides the perfect solution; their online scheduling software can end the frustration, save you time and save your company money.
Take advantage of the free 30 day trial and see for yourself what everyone else is talking about. You're going to love the freedom that online scheduling software provides, and you'll appreciate not having to spend so much time worrying about your staff's hours. You can start right now, for free, at whattimedoiwork.com. Just fill in some basic contact information and start using the software. We think you're going to love all the extra time you'll end up with on your own schedule.
---