Online Employee Scheduling Software
31 Jul, 2017 |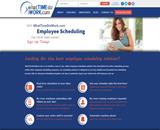 In today's fierce and competitive world of business, every owner or manager of a company knows the importance of ensuring that all of your clients are happy and satisfied with the level of customer service that you provide for them. If they are left feeling ignored or not valuable to you, because you don't have the proper staff there to assist them, they are going to leave your establishment and seek the services of one or more of your competitors. This can occur specifically when your employee scheduling is not being created maintained properly. For over the last fifteen years, WhatTimeDoIWork.com has been successfully providing advanced and state-of-the-art Online Employee Scheduling Software to our valued and satisfied clients.
WhatTimeDoIWork.com is the leading company that offers the most unique and original online employees scheduling software that is available in today's market. We have some of the very best features and benefits that offer the most user-friendly techniques that can save you valuable time and money. Because all of our features are completely automated, you can schedule your staffs' weekly shifts within a matter of minutes. If there are any scheduling conflicts that occur, the system will notify you immediately and then make the necessary corrections for you.
Because we are so sure and confident that you will be extremely pleased and amazed with our software, we offer our exclusive thirty day free trial to you. When you take advantage of this, there is absolutely no risk to you, and you can start implementing the system as soon as you would like to. After your trial, you will then be able to take advantage of just how affordable our services truly are. Because there are no training classes or special tutoring to begin using our software, you will be able to start saving money the very first day that you try it.
Employee scheduling software makes it easy to set up new schedules in minutes instead of hours. User-friendly features allow you to create routine shifts, which can then easily be assigned to an employee. If, like many other businesses, your schedules don't change greatly from week-to-week, you only need to make copies of the first schedules you create on a weekly basis and change them as necessary. Most businesses have occasional weeks where schedules differ significantly from the normal routine, such as during the holidays. Most employee scheduling software allows you to create templates for unusual schedules, which can be saved and utilized easily when required.
If you think that your company could benefit from the advantages that web employee scheduling software can provide, we would like to invite you to visit our web site at whattimedoiwork.com, and check out more of the remarkable and amazing features that our affordable software can provide to your business. On our home page, you can leave your contact information, along with any questions that you may have. You can also schedule your risk free thirty day trial to get you started immediately.
---