Hotel Scheduling Software
31 Jul, 2017 |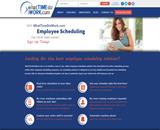 If part of your job is to create weekly employee work schedules for your busy hotel, you have probably spent much of your valuable time having to worry about flexible work hours that best suit your and your employees' needs. Sometimes this can create frustration and a conflict between management and staff. Instead of wasting valuable hours that can be put to better use, and will allow you to focus on the other aspects of your business, this may be the time to think about implementing Hotel Scheduling Software that can ease the burden. At WhatTimeDoIWork.com, we have developed employee scheduling software that is extremely beneficial, time saving and affordable.
WhatTimeDoIWork.com is known as the leading company that offers the most comprehensive and user-friendly hotel scheduling software that is available on the market today. For over the last fifteen years, our company's objective is to create flexible, affordable and easily maintained staff scheduling solutions that you can count on. Our software programs are so advanced, that they automatically update themselves with new and unique features that you will never have to download. Because of the ease of use that these programs offer, our software is in high demand and are continuously given 5-star ratings and reviews.
Because we are so confident that once you try our products you will wonder how you ever got along without them, we offer our exclusive 30 free day trial that comes at absolutely no cost or no risk to you. We are also so much more than just a scheduling program, as we also provide direct communications between managers and their employees that is quite beneficial to all. Whether you choose to communicate via text messages or emails, you will be able to send important messages, updates and other pertinent information to individuals or groups of employees.
Instead of typing or handwriting each week's schedule, with the assistance of our software, you simply point and click a schedule in a matter of minutes. Also, instead of having to call each employee, one by one in case of a schedule change, you can now automatically inform staff members of a scheduling change. As an added feature to our system, all important information is available 24/7, so you employees with always have important information readily available to them. Because of our remarkable information update feature, your employees can submit any types of changes to their personal information, such as a new cell phone number, or a change of address.
If you would like some additional information regarding just how simple and affordable it is to take advantage of the benefits that our state-of-the-art hotel scheduling software can bring to your business, WhatTimeDoIWork.com would like to invite you to visit our web site at whattimedoiwork.com, and check out more of the helpful and original features that our software offers. On our home page, you can leave your contact information, and also schedule your free trial that we are happy to offer you.
---