Hospital Scheduling Software
31 Jul, 2017 |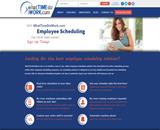 There have been many studies done regarding the amount of time that it takes for an individual to create a weekly employee work schedule for a larger sized business, and the conclusion is that it takes approximately eight hours to do so. This is a great amount of time that could be used to focus on the other aspects of your work. Because of the busy and hectic atmosphere that is present within all hospitals, this may be the perfect time to consider the benefits that Hospital Scheduling Software can provide to you. For over the last fifteen years, WhatTimeDoIWork.com has been creating new and exciting scheduling software that has helped thousands of small and large businesses with their scheduling solutions.
WhatTimeDoIWork.com is considered the top rated company that provides the most unique and user-friendly hospital scheduling software that can be found in today's market. Also included in our programs are direct communication features that will allow you to keep in touch with your staff automatically through emails and text messages. So, if you need to notify an individual or a group of employees regarding schedule changes, updates or any other types of pertinent information, this is automatically done for you. Employees can also search for shift replacements themselves if they are not able to work a specific day or time.
Scheduling software can lead to a significant reduction in labor costs, because everyone is automatically advised of any types of changes that have been implemented. Our software also features 24/7 online availability that will no longer keep employees guessing which hours they are required to work, This eliminates staff members not showing up because they forgot that they have taken someone else's shift. The ease of use that this software provides is one of the many reasons that more companies have placed their trust in us for all of their scheduling requirements.
We are so sure that you will absolutely love the convenience and time saving benefits that our software provides, we are happy to offer you a thirty day free trail of our services. Once you see just how simple and affordable our system is, you will wonder how you ever scheduled shifts without it. When you try our product, there is absolutely no risk or cost to you ever because this is our way of introducing you to the most state-of-the-art scheduling software that is available.
If you would like some additional information regarding just how easy and affordable our advanced hospital scheduling software is, WhatTimeDoIWork.com would like to invite you to visit our web site at whattimedoiwork.com, and check out more of the amazing features that our software can provide to you. On our home page, you can leave your contact information and any questions or comments the you may have. You can also schedule your risk free thirty day free trial the we are proud to offer you. Upon receiving your information, we will gladly get back to you as soon as possible to get you started.
---