Employee Schedules
15 Jun, 2016 |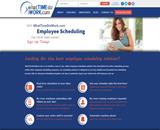 Employee Schedules have never been this easy! What Time Do I Work offers employee scheduling solutions that make sense and save time. As an intuitive, easy to use, online solution, What Time Do I Work streamlines the entire scheduling process. Unlike other employee scheduling programs, the software is designed to not only simplify and streamline, with its advanced template, it also positively impacts your bottom line with features such as:
Real-time calculation of your labor costs. Now you can know what your labor costs are while you create your schedule!

No more employee scheduling calls taking up your day. Your employees can easily view the calendar online, at any time, on their computer or smartphone.

Get your schedule right the first time. Making your employee schedules is much faster- with automatic conflict alerts

No more missing employee requests. Employees enter their own time off requests and shift preferences which are saved right on the employee schedules calendar.

Contact your entire staff in seconds. No more calling down an employee phone list.

Automatic overtime alerts. Lower your overhead and increase company profits!
What Time Do I Work is affordable online employee scheduling- it's been called the best staff and employee scheduling software on the market. If you've spent too many nights and weekends struggling to create conflict-free employee schedules instead of being with your family and friends, it's time to seriously think about exploring other options.
If you're still working with a paper and pen to tackle your employee schedules, it's time to make an upgrade. You're going to love What Time Do I Work! There's no doubt about it. Take a look at some of its most popular features:
What Time Do I Work was created by experts with more than three decades of experience in scheduling

What Time Do I Work was designed to fit all industries of the work force and eliminate the everyday challenges off scheduling

What Time Do I Work was developed from conversations with clients and their staff of scheduling experts, including managers and employees

There's nothing to download- ever. Updates to enhance the employee scheduling software are automatically available.

What Time Do I Work benefits everyone- owners, managers, schedulers and employees.
If you're wondering what type of industries would benefit from a program like What Time Do I Work, the answer is any industry that uses employee schedules and deals with shift difficulties. No matter which industry you're in, the core process for employee schedules is the same, and the customizable features and templates will tailor the program to meet your specific needs.

Visit online at whattimedoiwork.com to select your industry, to learn how What Time Do I Work scheduling software will uniquely work for your industry.Choose from: Restaurants, Bars & Nightclubs, Healthcare, Retail, Colleges & Universities, Casinos, Hotels and Event Centers, Sports Facilities and Convenient Stores & Gas Stations.

Get the employee schedules help you need, save time & month and make an impression on your company's bottom line. Enjoy a free 30 day trial when you sign up online, and discover for yourself why clients love What Time Do I Work.
---