Employee Scheduler
15 Jun, 2016 |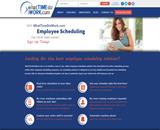 Are you considering an Employee Scheduler for your weekly or bi-monthly schedules? They're popular right now. It seems that every company is using an employee schedule creator to get the job done. The problem is, how can you choose from what's out there and get the best deal on the best software available?
The answer is simple. What Time Do I Work offers a free 30 day trial of their employee scheduler so you can try it for yourself and see why their clients call it the best software that's available today. If you're worried about signing up for a free trial that will turn into payments somewhere along the line without your knowledge, relax; There are no hidden fees and no contract to sign. Just start using the software and see what you've been missing out on!
If you're a manager who is currently struggling with the tedious process of creating conflict-free schedules that won't zap your resources, you can take heart knowing that those paper schedules have had their day in the sun, but are now over. You're going to love what a smart employee scheduler will do for your time and budget; take a look:
– What Time Do I Work's software allows for collaborative scheduling. Employees can set their own availability and manage shift trades all on their own. As a manager, you can ensure that all shifts are covered and make final approval over employee requests and input. You'll free up about 75% of your time previously spent on this task alone!
– Allowing employees to request availability and work a schedule that they prefer, your company may see an improvement in productivity.
– Instant remote access to the schedule by the entire staff frees up an enormous amount of time in communication between you and your staff. Single messages that you create can go out to all employees.
– What Time Do I Work's employee scheduler will eliminate the no-shows who forgot to show up for work. You'll save time and resources over last-minute scrambling to cover a shift that no one showed up for. Automatic reminders provide employees with a heads-up that their shift is coming up so they can make arrangements in time
– The increased efficiency will save your company a great deal of money through reduced labor costs. This former major investment of your time can be quickly and efficiently performed.
– Conflict-Free schedules mean no overtime when it's not necessary and no overstaffing on accident. Employees will appreciate not having to be sent home after being mistakenly scheduled.
– Take better control of labor costs with real-time calculators while creating schedules with the employee scheduler.
What do you think about that free trial membership now? What Time Do I Work can show you what their software is capable of for a full month, with no obligation on your part. Just sign in and start creating conflict-free schedules. Use it as often as you like for a full month before you make up your mind.
You can get started by going to whattimedoiwork.com. We think you'll love the new employee scheduler. See what you think!
---