Employee Schedule Calendar
15 Jun, 2016 |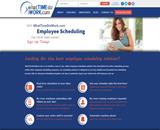 If you're wondering what an Employee Schedule Calendar can do for you, take a look at What Time Do I Work and see for yourself. Turn schedule-crafting into a simple task that won't take over your nights and weekends, with the easy to use and powerful software from What Time Do I Work.
WhatTimeDoIWork.com online employee schedule calendar software is used by all kinds of industries and businesses, including Subway, Shell, Best Western, Holiday Inn, and many other national and local businesses, and is perfect for every industry. Some popular features that make What Time Do I Work software attractive to schedule-makers include:
– Labor cost calculation in real time. See your actual labor costs while you are creating your schedule.
– Employee scheduling calls are eliminated. Your employees can easily view the schedule calendar online, at any time, over the computer or their smartphone.
– Contact your entire staff instantly. Forget about calling down your employee list and wasting valuable time.
– Save countless hours and get your schedule right the first time around. Automatic conflict alerts reduced the time to make your schedules.
– Tired of saving scraps of paper with employee requests on them? Never again. Employees can enter their requests and shift preferences online and are saved right on the employee schedule calendar.
– Overtime alerts will save your company money. Lower your overhead and increase your company's profits by eliminating or reducing overtime.
Tired of dealing with no-shows or having to cover for them? You're going to love What Time Do I Work's automatic reminders that alert employees to their upcoming work schedule shifts. Providing your employees with a heads-up with regard to their next shift will give them time to make it a priority. If you hate scrambling at the last second to try and cover for a no-show, you'll appreciate this feature.
Do you feel like your phone is stuck to the side of your head? Put down the phone and start communicating, with messages that go out to your entire staff, whether you have 5 employees, or 500. You're going to save an enormous amount of time with this feature.
Your company can save thousands of dollars annually by reducing labor costs through automatic overtime alerts and schedule conflicts. Increase your corporate profits by using a smart employee schedule calendar.
Still not sure What Time Do I Work is for you? Take a test drive for free! You can take advantage of a free 30 day trial of their online employee schedule calendar solutions, with full access to all the features, programs, and customizations, without any obligations whatsoever. See for yourself how online employee scheduling can improve your business and save you money. There's no contract, no hidden fees and nothing to download.
Just visit whattimedoiwork.com and sign up for your free trial. We know you're going to love having more time to yourself while creating perfect work schedules week after week. Your employees will appreciate the benefits as well! Do yourself a favor- get the software now.
---