Bar Scheduling Software
15 Jun, 2016 |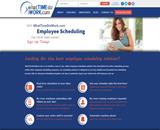 What Time Do I Work provides Bar Scheduling Software that can help your company save time and money. Any industry with shift schedules can benefit from the range of features and advantages offered. Whether you're in the restaurant industry, healthcare, retail, bar & nightclub, hotel & event, sports or convenience store, you'll soon find that What Time Do I Work has everything you need to create perfect schedules week after week.
Managing a bar or nightclub can be challenging! You're managing a unique staff with a high employee turnover rate and working with individuals whose positions require different hours and responsibilities. If you're dealing with a continuous employee scheduling nightmare, take heart. What Time Do I Work can eliminate the pressure, free up your valuable time and save your company a lot of money in the process.
If creating the weekly schedule has become the most tedious part of managing your business, it's time to take a look at the bar scheduling software from What Time Do I Work.
With so much change in your work environment, along with the need to handle time-off and vacation requests, it can be a difficult task to create conflict-free schedules that don't waste company resources. Bars and nightclubs are often open during hours that other businesses are closed, and during weekends, creating unique problems for employees who only want to work specific shifts or hours. This makes it imperative that schedules reflect shifts that accord to preferred hours, along with proper responsibilities of each job.
Eliminate the obstacles and challenges of scheduling with What Time Do I Work's bar scheduling software, created explicitly for your unique industry. Now you can:
– Decrease your employee turnover through scheduling that reflects preferred shorts and availability
– Make sure you are adequately staffed for every shift, with every job covered
– Conveniently manage your hiring, managing and scheduling all from one place!
– Take back control of your labor costs through cost calculations, overtime alerts and conflict alerts that make you aware of the areas where you may be over-staffing or paying overtime when not necessary.
– Take advantage of software that handles time-off requests and shift-swapping by putting the power in your employees' hands. You'll never have to pin up scraps of paper with requests on the bulletin board again!
– Eliminate the no-show nightmares you're experiencing with shift alerts that provide a heads-up to employees. If you're fed up with scrambling at the last minute because an employee forgot they were working, you'll appreciate this feature.
– View and manage your schedule anytime, anywhere. Your employees can view it as well, from their computer or smartphone.
Ready to learn more? You can try out the bar scheduling software for free for a full month with no contract to sign, no hidden fees whatsoever and no obligation for trying it out. You'll have access to every feature so you can see what you've been missing out on.
Simply visit online at whattimedoiwork.com and fill in some basic information and get started right away. We know you're going to love running your bar or establishment with the help of What Time Do I Work's bar scheduling software that will save you time and money.
---